<!-3-Body>

<!- start the page here>

Cloisters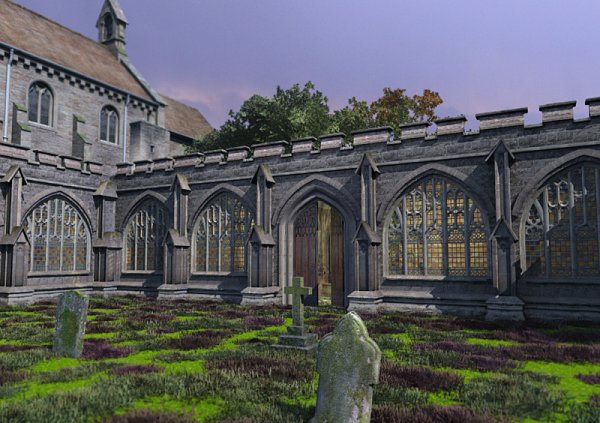 ---
A cloister (from Latin claustrum) is a part of cathedral, monastic and abbey architecture. A cloister consists usually of four corridors, with a courtyard or garth in the middle. It is intended to be both covered from the rain, but open to the air. The attachment of a cloister to a Cathedral church usually indicates that it is (or was once) a monastic foundation.

Cloistered (or "Claustral") life is also another name for the life of a monk or nun in the enclosed religious orders; the modern English term enclosure is used in contemporary Catholic church law[1] to mean cloistered, and cloister is sometimes used as a synonym for monastery.

In medieval times, cloisters served the primary function of quiet meditation or study gardens.

Thanks to Wikipedia for this info

This model is a complete quad, with modelled interior detail featuring a vaulted ceiling and tiled floor. The lead lines on the windows use transparency mapping to keep down polygons. 4 levels of stained glass transparency are also included.
---
To purchase this product, please use one of the links below:

Poser Format:
Downloadable File Size: 7.35MB(approx.)
---
Vue Format:
Downloadable File Size: (approx.)
Please note: Each store shown above has different policys and practices with avaliablity, pricing and refunds. So please check your order carefully before purchasing, especially when choosing a format.
---

.: Additional Product Images :.



<!- stop the page here> <!end of the page area>

<!-3-Body-stop> <!-4 Table Returns>