<!-3-Body>

<!- start the page here>

English Village The Collection #1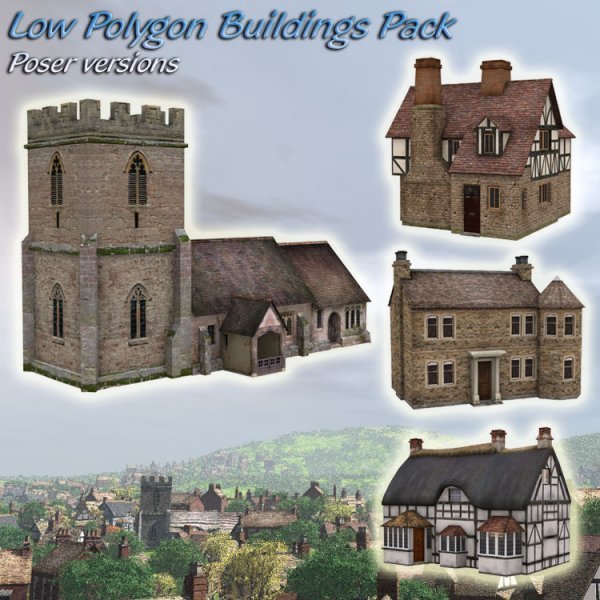 ---
This collection contains 4 models...

Old Vicarage

A part stone and timbered cottage. The vicarage is usually found next to a church as the clergymens residence. This is part of our low polygon series, at just 313 polygons.

It's ideal to use in the Vue ecosystem, or clustered in the distance to make a village. It does still have sufficient detail for acceptable close-up rendering, especially if softened with some plants.


The Grange

A stone country house, with separate turret feature (tower not removable in poser version) to create a different look. This is a lower polygon model (698 polygons) to help you build scenes including distant villages.

Ideal for use in Vue's ecosystem, especially when combined with our other low polygon models. The glass is mapped for reflections and transparency. Reflections are off by default and can be activated in the material editor.


Thatched Pub

A timbered and thatched pub, or cottage. This is a low polygon model (579 polygons) that is ideal for use with the vue ecosystem, or grouped in the distance with our other low polygon models to place villages and houses in your landscapes.

Group with our sign and tables model (available separately) to place a country pub in your scene.


Church

A country church that can be rendered with or without a spire. Designed as part of our low polygon series, the church, at just 537 polygons, is ideal to use with the vue ecosystem.

Alternatively it can be grouped with our expanding selection of low polygon houses to place villages in your landscapes. The model is also sufficiently detailed to be convincing in close-up. For extreme close-ups of church doors and windows, please use our 'Church for country Collection, Churchyard' model available here at Cornucopia.


---
To purchase this product, please use one of the links below:

Poser Format - part of a 4 building collection.
Downloadable File Size: 8.78MB(approx.)
---
Please note: Each store shown above has different policys and practices with avaliablity, pricing and refunds. So please check your order carefully before purchasing, especially when choosing a format.
---
Additional Product Images





<!- stop the page here> <!end of the page area>

<!-3-Body-stop> <!-4 Table Returns>