<!-3-Body>

<!- start the page here>

Home Farm - Complete Collection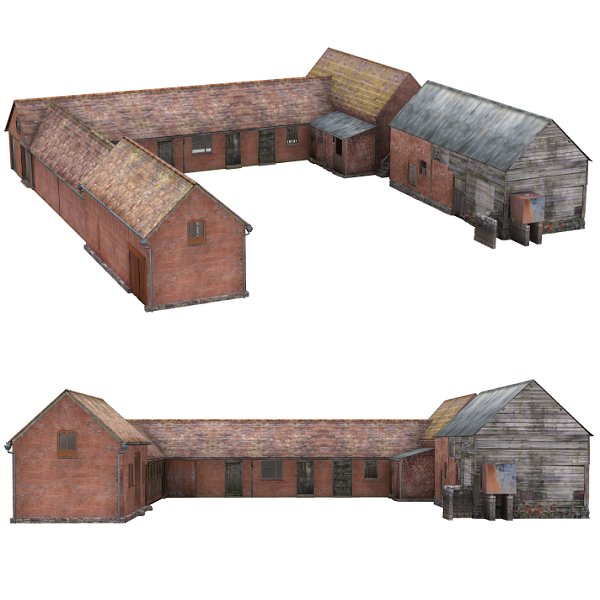 ---
Home Farm, a collection of useful farm buildings based accurately on real world prototypes, but useful for fantasy and real world scenes from pre-industrial to present day.


---

Stables and Haystore.

Features a split stable door as the main entrance. To the left is a three-quarter height door for access to the hay storage area. The oiltank and the wall section are separate models that can be used independently, or removed from your scene. Typical of the make-do and mend attitude of farmers, the building features fetures brick, stone, weatherboarding and corrugated metal surfaces.


---

Workshop and Lean-too

The work shop is accessed from an external stone staicase. Further storage is available at the far end of the building through wooden double doors. The lean-too model could be for calves, sheep or pigs. It is separate to the workshops, so both models can be used independently.


---

Shed and Parlour

The shed is a long brick building for animal rearing. Each door can be opened. The front doors include a gate model, so the animals can have fresh air but won't escape.

The palour features a wood boarded frontage. The shed and palour are 2 separate buildings, but the inclusion of 2 roof joiner elements allows you to join the shed and palour together, and also join the shed to the 'Home Farm Workshop and Lean-too' model (available separately).


---

Office and stores

This versatile model allows artists to display a modern day farm office frontage, or rotate the model for an older double door .


---

Each building, vue or poser, will load into the correct loacation for making up the Home Farm complex of buildings. In poser, some buildings are only partially visible to the default start camera position. You may even need to pull back the camera to see it.
---
To purchase this product, please use one of the links below:

Poser Format:
Downloadable File Size: 16.6mb(approx.)
---
Vue Format:
Downloadable File Size: 27.4mb(approx.)
Please note: Each store shown above has different policys and practices with avaliablity, pricing and refunds. So please check your order carefully before purchasing, especially when choosing a format.
---

.: Additional Product Images :.



<!- stop the page here> <!end of the page area>

<!-3-Body-stop> <!-4 Table Returns>